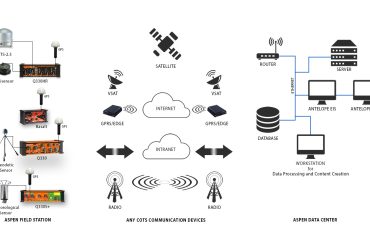 Seismic Networks in the Cloud
Featuring Dr. Mathias Franke, Kinemetrics Inc.
Traditional earthquake data processing is carried out utilizing dedicated hardware in a data center run by the seismic network operator. Such specialized data centers must be carefully planned, and hardware resources (space, power, servers, storage, routers, etc.) are purchased in advance or constantly aggregated/modified/updated.
With the evolution of the internet as the backbone of international data exchange, multi-tenant data centers started to evolve in many fields, eventually resulting in scientific cloud computing.
Cloud computing is the on-demand delivery of computing power, database storage, applications, and other IT resources through a cloud services platform via the internet. State-of-the-art cloud data centers offer flexibility and scalability for demand-driven processes that can deliver the reliability required for critical observational science and civil protection initiatives such as seismic monitoring networks.
In this session, Dr. Mathias Franke will introduce us to the requirements, challenges, and opportunities provided by cloud-based seismic monitoring solutions such as Kinemetrics' Aspen platform.
During this informative webinar and Q&A session, Dr. Franke will systematically and financially compares two cloud configurations: one for a small scientific network with a few data users and another for a very large national network with many stakeholders from network operators to emergency officers.
Don't miss it!
October 26 @ 9AM (Pacific)